Married By Kayla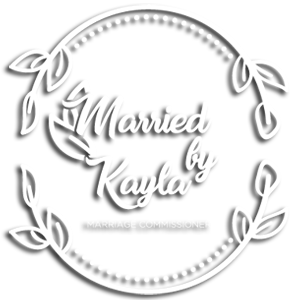 About Us
Who are we?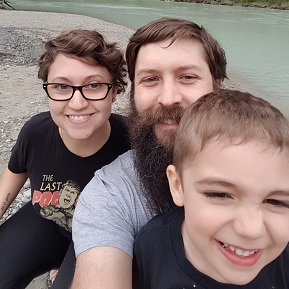 My name is Kayla Horan-Dmytruk and I'm a Saskatchewan marriage commissioner located in Saskatoon. If you can dream it, I can help make it a reality. Do you want a long, beautiful ceremony? Short and sweet? A cool cosplay wedding? A sand ceremony? Do you want your friend to conduct the ceremony? Just vows and paperwork? I can do it all! Shoot me an email or give me a call and we can discuss your dream ceremony!
Services
Basic

Just the vows and paperwork. This is a legal marriage without the bells and whistles. Perfect for the couple who are having a destination wedding and don't want to jump through the hoops required to be legally married in another country or the couple who have a friend doing their actual ceremony. Contact me for more details!

Price: Quoted

Simple

A short, simple, beautiful ceremony. It is about 15 minutes long. Contact me for more details!

Price: Quoted

Rehearsal

If you would like a practice run-through of the wedding or need a bit of help organizing who-goes-where-and-when, I would be happy to attend your rehearsal. Contact me for more details!

Price: Quoted

Custom

If you have a unique, off-the-wall idea I would love to hear it! Contact me and we can discuss making your dream ceremony a reality!

Price: Quoted
*If you require travel outside of Saskatoon, we request an additional $0.4483/km
FAQ
What do we need for the ceremony?

- A valid marriage license
- Two witnesses over the age of 18
That's it!

Can my friend do the ceremony?

Absolutely! All I need to do to make your marriage legal is conduct two vows and do some paperwork. I can do the legal stuff the week before, during your ceremony, or the morning after!

Are you a priest?

Nope. I'm a civil marriage commissioner. As such, I'm not permitted to conduct any religious ceremonies.

Do you provide us with a marriage certificate?

Yes. I will provide you with an unofficial certificate. If you wish to purchase the official one, you need to go through eHealth.
Testimonials
I have known Kayla for a while now and when I found out she was going to become a Marriage Commissioner, I knew immediately I needed to book her for our wedding. She did not disappoint! She was extremely professional during the whole process. She helped us out every step of the way, especially when we wanted to customize our ceremony a bit. She was very open to our suggestions and gave us suggestions as well. She was well organized and was a big help during our rehearsal. During the Ceremony, she did an amazing job. She has a great speaking voice and everyone enjoyed her easy-goingness. I would recommend her to anyone looking for a Marriage Commissioner!!

-Jesse & Katie, 2016
Contact
Contact us for general inquiries, or click here to request a date.